i make cute little floral head garlands. 
wedding: todd & heidi sittig
photography: mallory macdonald
these are the new spice jars at my job. i LOVE them. don't you?
such a lovely idea!
a hen & a knitted garland.
a beautiful mess features 10 different ways to make fun garlands!
All because my mother found my glue gun that's been MIA for awhile! :) Went craft crazy (ideas inspired by the one… the only.. sydney [http://heartsonmars.tumblr.com/])
I had some old frames laying around my house, so I decided to steal the earring holder idea from Syd. I wasn't quite sure what I wanted to do with the huge frame. It didn't have any backing… so I didn't know if I wanted to put a picture in there and hang it. So I let it just sit in my room for awhile. And I was going to continue to let it lay there…. Walked over to organize my jewelry and realized, "Aha! I need a place for my necklaces!" And there you have it.. my very own frame necklace holder :)
I am pleased w/this craft night.
light bulb vase craft. i like this!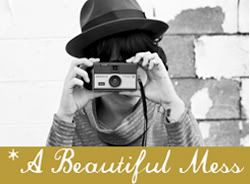 go to this blog! and be inspired! (if you're anything like me - a person with huge dreams that are scary risky)